Today's Bread
Pain au Levain | Walnut Levain
Oatmeal Crunch
Yeasted Cornbread
Pain de Mie
Apple Cinnamon Cranberry
Finnish Rye
Pain de Campagne
Baguettes/Batons
Ciabatta
Focaccia
Seeded/Plain rolls
Summer Feature
A perennial favorite, the Raspberry Wonder is back for spring and summer.
We start with vanilla sponge cake, top it with a subtle white chocolate mousse, a layer of raspberry mousse, and cover the top with fresh raspberries, blueberries and blackberries.
It looks almost too pretty to eat, but don't let that stop you!
Lately...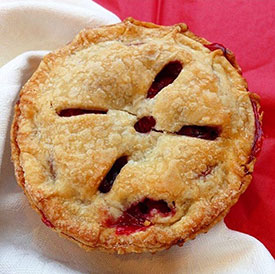 We steadfastly maintain that nothing bad can happen to you while eating a cherry pie. Because it's the happiest pie on earth. Ours are sized for individual consumption. Come get one.